Designing for enterprise as opposed to consumer products, is it different?
Over the last few years the distinction between designing experiences for enterprise products versus consumer products has significantly narrowed. In few cases, it has unmistakably evolved and adopted a new trend for "Consumerization of Enterprise", consequently, the change in behavioral patterns and expectations have also experienced a shift.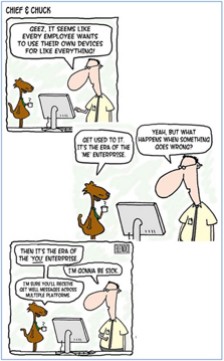 Today, enterprise users are exposed to a wide array of consumer products as well as social applications in their daily life at work and at home. Flexible enterprise policies like 'BYOD – bring your own device' and 'CYOT – choose your own tool' have fueled employee exposure to common productivity and communication tools in their work life. This has proven to enhance employee productivity. Growing collaboration and accessibility needs (from anywhere and anytime) have warrant a change in business dynamics. User behavior has forced enterprise product creators to reshape their strategies (e.g. Microsoft Office vs. Google Docs) and imbibe social platforms as well as features. The overlapping experiences have uncovered an open design canvas for us 'the experienced designers' hence a noticeable change in the design thinking and approach. Mobile, gaming, etc, design paradigms have become a stimulus and seemed to be widely embraced for shaping intuitive and personalized enterprise product experiences.
User interface standardization between consumer and enterprise products is imminent and it is believe if design paradigms are embraced responsibly and judiciously, it can significantly improve product adoption, engagement and user efficacy.
In collaborating with several Fortune 500 companies, product startups serving enterprise and consumer needs, interesting developments are taking place. Shaping enterprise product designs face several challenges. Following are few aspects which may be worth keeping in mind while strategizing solutions;
Design innovation is important and equally risky if not considered judiciously

– as designers we enjoy shaping new design patterns, engaging and offering newness to each and every product experience, thus pushing boundaries for creating a difference. Yearning for design innovation at every opportunity may at times result in expensive outcomes.

Enterprise products usually have significant legacy in terms of front-end / back-end technologies, house features and functionality that have matured with time. They are backed by notable customer loyalty and a sizeable end-user base that may have fallen prey to 'learnt helplessness'. The dynamics place designers in a tricky situation as weaving radical and rapid innovation to the conventional and acquired interaction patterns may serve detrimental to the perceived product usability, overall user acceptance and inflated support costs.

Over the past few years there have been several opportunities to shape user experience. Certain conventional interaction design paradigms have become an established and comfortable industry norm, for design and enterprise experiences of products in cloud computing, data center, networking, enterprise security, insurance and banking, employee productivity, health care, law and litigation, etc. It is a realization that

no matter how innovative an experienced designers creates, industry norms are

easily accepted by enterprise product companies and well understood by their

customer and the product end-user.

This could be owed to the fact that many established enterprise products are progressively migrating to web/thin client and mobile versions. Many times the situation brews frustration and is considered as a creativity dampener. It is our experience that it's better to accept the norm and invest the energy and creativity in other areas of the product experience such as the overall information architecture, user journeys, micro-interactions, messaging, contextual help, etc., which create a significant difference in the overall product experience. Offering unconventional and radical new interaction paradigms like collapsed drawer/hamburger menus which hide primary gateways under a click; creative iconography based slide-in/out menus which may get hard to relate, may hamper discoverability. Cards as a primary alternative to data-grids which may hamper the data consumption scale, etc. are received as being 'good looking' and 'cool' by product and marketing teams, however, they may be perceived as being counter intuitive and inefficient during design validation studies with prospective/actual users, and resisted by engineering teams, making this a futile effort.
A change from customary often induces significant oversight and learning which may result in being detrimental to overall end-user's productivity. As designers we need to be sensitive to the enterprise product ecology and acquaint ourselves with 'when?' and 'where?' to adopt conventional versus innovate paradigms thereby keeping existing users happy as well as lowering the barriers for new ones.
A 'T-shaped' profile is essential

– To be a designer for a consumer product that you may be a user, such as 'Facebook', WhatsApp, etc., will make it easier to connect with and design for, as opposed to designing experiences for enterprise products which may be full of unknowns. Designing for specialized user profile situated in a unique environmental setup will require sound domain, technology and contextual understanding. For acquiring complete understanding about the product ecosystem and experiencing what end-users experience, the designer should have the knack and motivation for conducting research studies with stakeholders as well as end-users. As a result, for designing successful enterprise products, being a competent designer may not be enough as 'an experienced designer' which will need to have the qualities of a researcher, understanding about front-end user interface development technologies and its influence on the design, as well as possessing good analytical skills.

Success criteria are identical and have a long life-span

– shaping a consumer product offers the designer quick gratification in terms of public visibility and acknowledgement from thousands of users, hence is usually a sought-after space. As designers we often draw a line between business and end-user goals, try and identify commonalities and create a design strategy which will cater to both their needs. In the case of consumer products it so happens that the originally conceived product user interface design experience gets often skewed and diluted with time owing to the disparity between business and user goals resulting in conflicting opinions. e.g. a multimedia product company may focus on monetization via ads. Which will channel the user experience in a manner that maneuvers them in traversing as many ads before accessing the a/v content or intrude with splashing ads while the user is viewing the content. While an end-user's goal will be to view a video of interest as quickly as possible without interference.

An enterprise product development life cycle could be long and challenging. It may take more than a year or two to complete the product. Having said that, the best part about designing an enterprise product experience is that the business and end-user goals for the majority are identical and remain meaningful for a long time. e.g. employee productivity is directly proportional to enterprise savings/revenue. Consequently, you will be designing for a common vision with a lasting impact.

For a consumer product short-cycles of updates are imperative for survival, while in the case of enterprise product design longevity is the key for success. As a result, it is extremely important to carefully identify the business as well as the end-user' success criteria for an enterprise product and shape the design paradigms with a characteristic of scalability and futurism.
End-user profile's as oppose to persona's

– the word 'profile' is generally used and 'persona' interchangeably, while their meaning and relevance for intended outcomes are different. 'User Persona' being the more commonly used verbiage are descriptive in nature and a semi-fictional representation of an ideal product user. Persona's work well when the unknowns are high and the product direction has to be shaped on assumed facts about the probable target groups. User Profile's are prescriptive as they are outlined basis facts and known user data.

The user/s for enterprise products are known thus outlining a user profile is more relevant in this context as data for each aspect about the specific user will be readily available in the enterprise. In a recent project engagement discussions with HR representatives for actual job descriptions of targeted user profiles took place. Subsequently, connecting with the actual users for contextual understanding and ratification. The exercise demonstrated a deep-rooted understanding about the end-user's psyche, goals, motivations and uncovered few extremely insightful daily nuances, which otherwise could have been overlooked, resulting in skewed outcomes.
Design paradigms with a characteristic of futurism

– Enterprises could have a world-class looking web product, a friendly mobile application, and an awesome CRM system. That said if enterprises were asked 'Are your int./ext. product ecosystems connected?' the answer usually would be 'NO', 'NOT REQUIRED', 'NOT YET', 'HOPEFULLY SOON', 'THAT'S WHY WE ARE TALKING TO YOU' and so on. As designers we invest a lot of our time and energy acquiring a holistic perspective about the product ecosystem during the very early stages of a project engagement, and in the case of a legacy enterprise product you would have often made suggestions such as 'Shaping an omni-channel experience will increase user productivity and save operational costs'. 'A responsive, adaptive or hybrid experience may be more suitable from a futuristic product adoption/usage perspective based on foreseen changes in user behavior patterns', etc. While stakeholders will appreciate all suggestions and personally would have loved to pursue the ideal path, more often than not, the design scope usually gets curtailed by a myopic need, owed by budgetary and time-to-release constraints. This will result in adopting a blinkered and tactical approach for shaping the product user experience design. More so, the race against time often steers designers towards cutting-corners for faster outcomes.

From past project experiences designers have learned to always shape design paradigms looking ahead to the future despite the immediate/near-term needs thus mitigate impending risks. If basic design fundamentals about adaptive/responsive grid structures, atomic and modular design components, fluid layouts, scalable graphics and font libraries are adopted the product design foundation will be robust and prepared for absorbing future needs. There may be a delta from originally planned effort/time, having said that, the quality of outcomes will be worth every penny invested.
Primarily mouse/keyboard driven behavior –

The advent of touch-enabled interfaces has significantly influenced the design language of products (e.g. large tappable areas/objects, gesture-driven interactions). By virtue of everyday digital interactions we tend to ignore the usage of mouse and keyboard as an integral input device for enterprise applications, thereby overlooking behaviors, and not the most optimum layouts for immediate to near-term needs. The situation would often result in skewed outcomes, and cycles of negotiation with the product owners and engineers. .

While, there is nothing wrong in designing for the future, as experience designers it's critical to ensure that decisions made do not compromise the immediate and short -term goals. A similar situation was mitigated in a past project by introducing viewing modes (such as Gmail – Comfort, Cosy, Compact) and adopted flexible designs constructed for fluidity and scale. This resulted in an immediate implementation by the business of short and long term goals thus giving the user some perspective and a higher control level.
Accessibility –

Have you ever experienced customers expressing some dissatisfaction about the interface colors being washed-out and not appealing at their end. The cause is our fondness for Apple Mac machines is . As designers, we diligently conduct all color anomaly tests in our systems before delivering the artefacts to the customers and many times tend to forget that the customer/end-user machines in the enterprise world are mostly Windows-based PC's/Laptops. Try viewing your visual designs on a standard Windows-based PC and you will realize the reason for customers straining their cords. As a process it's important to test all visual designs across different machines and displays including standard windows-based PC's and Laptops. The traditional test for color contrast that works well is to take a B/W print-out of the r designs.
Intensive training and specialists for customization is passé –

How many times have you really needed to scan help files or seek long-hours of assistance while interacting with a consumer product? Generally, the answer will be none or insignificant. In a situation where the assistance required is high, the product adoption curve is extremely low and a high drop-off rate is experienced. In this day-and-age, customers and end-users expect a similar experience while interacting with enterprise products. Customers should not have to create heavy dependency on vendors for smooth functioning of their enterprise applications and business. End-users would like an experience that aligns with their innate behavior, and reliance on training, as well as support channels for everyday work-life needs is considered as a barrier.
Looking forward to learning about your experiences.