Customer Centric to People Centric
"Word-of-mouth is one of the most credible forms of advertising. It is effective, influential and a reliable tonic for business success."
Innovation drives evolution; evolution seeds opportunities, and opportunities surface competition. The current business scenario, is like a souk offering a myriad of choices to people. It may get extremely difficult for companies (viz. telecom, airline, hospitality, travel, etc.) to preserve their market edge and differentiation merely by price or products. A product, its features and pricing strategies can easily be mimicked and re-offered with a subtle twist by a competing brand. Early adopting of the product due to its compelling pricing strategy, can have an immediate effect in solving consumer problems/dissatisfaction and winning new customers. However, this insulated solution will not be enough to foster customer loyalty.
It's about time companies widening their view and fine-tune strategies beyond product user/customer experience and think of the overall ecosystem and how the touch-points are influencing people.
The secret recipe for preserving customers and engaging potential customers, may be the result of a well-designed people experience impact (PEI) approach. Said approach explores the relationship between people (potential customers + customers), brands, and how the interaction with different brand service channels will influence the entire journey of becoming a potential customer to being a loyal customer.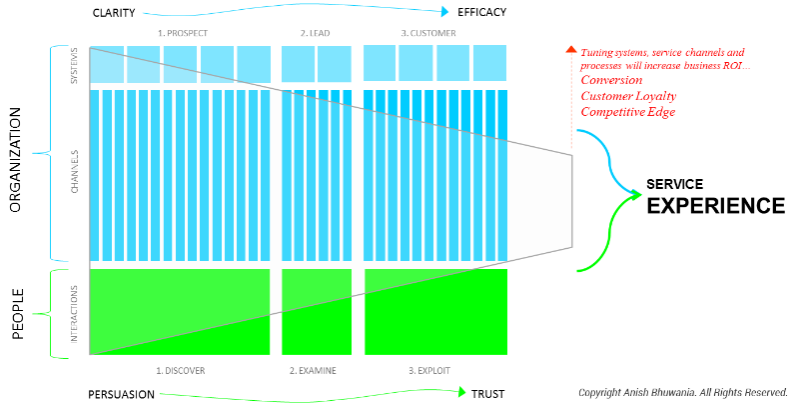 Shaping a quality service delivery ecosystem is about… tuning the ecosystem's power of persuasion and inducing trust.
look at services as they cut across touch-points in the context of people's journey and not in isolation

be sensitive to channels beyond digital (web, mobile, television,interactive voice response) such as human (call-center, channel partners, etc.) or physical (brochure, etc.)

study the scene (ext.) and behind the scene (int.) systems and functions
While businesses are willing to spend billions in advertising, study shows that word-of-mouth is a credible and strong form of advertising. Thus, steering customers with good experiences your way, and this can be far more influential than paid advertising.

"Word-of-mouth is the valuable currency in today's advertising-saturated world." — Jackie Huba and Ben McConnell, authors of Creating Customer Evangelists
With growing market demands and service channels, it may be challenging for a company to sustain and upkeep the ecosystem. Slicing a fraction of the budget for continuous PEI studies will ensure delivery of top quality experiences and services, thereby fostering customer relationship, spawn value and ensuring sustainability.
"As a consumer of various services and products I value personal recommendations more than gimmicky advertising…let me know how you feel."